The blogging community can be intimidating, especially if you're just starting out. But it is actually such an encourage and positive community. Every blogger that I've talked to or worked with has been so helpful in my journey with blogging.
Blogging is all about community. You need to find people with similar blogs and niches. They can be a great source of inspiration and can answer your questions. They can also be great work with for collaborations, guest posts, challenges, and all sorts of other ideas. Bloggers of similar interests are also great to sponsor/advertise because they already have an audience you are looking for. But the blogging community is also great just for moral support and friendships!
But I know sometimes it's hard to figure out where to get started with initiating a friendship or building your blogging community. I didn't feel like I was making any real connections, and then it just sort of happened! It's hard to put yourself out there and talk to people, but you need let them know you're there. Here are a few ways to build your blogging community.
Join Groups
Facebook groups are a great place to make friends and network. Many bloggers are looking for the same thing, other people to connect with. Some groups are more for promoting your own content, which is great when everyone follows through. But other groups are more for positive support, encouragement, and inspiration. Groups are a great place to ask for advice or find other bloggers who are looking to collaborate. Have an idea but need to bounce it off someone? Ask in your Facebook group.
One of my favorite groups to be a part of is Allison Marshall's Creative Superheroes. This group is so positive and I love seeing all the hard working ladies grow and support one another.
Another community/group I love being a part of is Helene's brand new Blog Boss Babes! It is a community for bloggers who want to learn, grow, and connect with other bloggers. There are tons of videos and worksheets for bloggers and a discussion forum for everyone to connect.  Click below to sign up, you won't regret it!
Participate in Other Bloggers Programs

A great program that I love being a part of is Solidarity Sisters. This idea was created by Susannah of Simple Moments Stick as a way for bloggers to get to know one another better. It's great because you really get to know someone you might not have considered getting to know otherwise. While the first few emails feel like online dating (a lot of personal questions), it's a great way to make a new friend and grow your blogging community.
How it works: People sign up every two months and Susannah pairs everyone up with someone she thinks will have a lot in common. I can't imagine the amount of work and research this takes. Then every two weeks or so, Susannah sends out a task for you and your sister. Ask questions, promote one another on social media, and do some sort of collaboration together. And it's really awesome to wake up to emails that aren't bills or promotions for online shopping.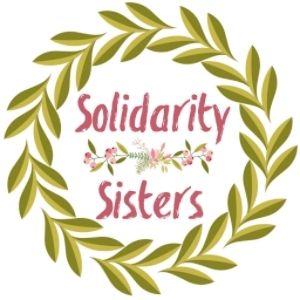 Another great way I love meeting new people is participating in webinars. I learn so much just by watching, but by actively engaging in the chat I make a lot of new friends. Helene has great webinars, she's hilarious so the webinars are informative as well as entertaining (she's also great to follow on Snapchat).
Join Challenges
Challenges are so great for building your blogging community because you interact with a lot of different people. Depending on the challenge, you might get people from all over the world participating. One of my favorite challenges that I'm going to be a regular part of is a book challenge hosted by Erin of TexErin-in-Sydneyland. I only joined in January 2016, but it has turned into a great passion to participate in this group. People are posting updates/reviews of the books they've read so it's a great place to find new books to read. It's also interesting finding books for the challenge categories.
Another great idea is to participate in are Instagram challenges. Typically there is a set schedule for what type of picture to post each day for a month. You participate by posting that type of picture and using the featured hashtag for the challenge. Don't worry if you miss a day, I typically do
Join Link Ups
Another great way to find other bloggers and get your content seen by different eyes is to participate in a link up. If you add your link to someones link up, it is like free promotion for your own blog. Your name and link show up on THEIR page! If you host your own link up, other people often put your name and the fact that they're joining your link up in their posts. Some link ups are pretty general, you can link up with whatever you want as long as it's recent. Some link ups are more specific, like the link up that Michelle of Michelle Lately and Alison of Puppies & Pretties and I host. On the last Friday of every month we host a Reading Lately link up where we review the books we've read all month. This link up was created through a Facebook group by the way.
Interact with People
You need to go farther than just commenting on blogs to build your blogging community. You should comment regularly. Be genuine, supportive, and write meaningful comments. Build a relationship with people. Also interact with them on their Instagram and Twitter accounts. This makes people notice you. Respond to comments that people post on your blog too! I don't like when I take the time to write a nice meaningful comment and people don't reply.
Support Others Blogs
Besides commenting on peoples blogs, you need to promote their blogs and their content. This is a great way to show your support and get people to notice you. We all love having our content shared. Or link to their blog in one of your posts. Then when you tag them on social media, they might check out the post and share it with their blogging community.
Participate in Twitter Parties
In my post Free Overlooked Resources That Increase Page Views, I talk about how great Twitter Parties are because you meet tons of new people. It is a great way to boost page views from people checking out your blog and it's a great way to build your blogging community. Other people notice you by being able to interact together for an hour. People's personalities really shine through and you get to know them on a more personal level. The key to being successful in twitter parties is being responsive and genuine.
What are some ways you build your blogging community and make friends?