One of Idaho's best kept secrets is Goldbug Hot Springs hidden in the mountains along the Salmon River. Truly an off the beaten path adventure as you leave major cities and drive into Idaho's wilderness. Once you reach the trailhead, it requires hiking into the mountains. But the journey is worth it once you reach the hot springs with amazing views of the valley, heart shaped soaking pools, and waterfalls. Here is everything you need to know about visiting the Goldbug Hot Springs! And for more things to do when visiting the area, check out my Salmon, Idaho Travel Guide!
To keep these natural beauties available to everyone, make sure you practice leave no trace.
Directions to Goldbug Hot Springs Trailhead
From Salmon, Idaho, head south on US-93 for about 23 miles. Turn left onto Warm Springs Road which will be near mile marker 282. Drive down the road and you will dead end in a parking area. Make sure you leave room for others to get in and out. This is a 30 minute drive from town.
From Missoula, Montana, head south on US-93, going through Salmon and following the same directions. This drive takes about 3 hours.
From Stanley, Idaho, head north on HWY 75 for about 55 miles then turn left onto US-93N. You'll continue North for about 37 miles until you turn right onto Warm Springs Road near mile marker 282. This drive takes just under 2 hours.
When to Visit
Spring: A beautiful time to go with great temperatures and weather. But the trail can be slick and muddy with the water being cooler due to the melting snow.
Summer: With beautiful temperatures and people taking summer vacations, you'll probably encounter more people during the summer. Make sure to pack extra water!
Fall: As temperatures begin to drop, fall weather makes for ideal hiking conditions to the Goldbug Hot Springs. It will likely be busy during fall.
Winter: Probably my favorite time to soak in any hot spring. It's so refreshing to feel the cold air as you relax in the hot spring. But with snow on the ground and temperatures dropping into single digits, many people put away their hiking gear for the winter months and miss out on some amazing adventures. If you visit Goldbug Hot Springs in the winter, you will likely have the trail and the springs to yourself. While the trail is packed down, it is still covered in slick snow and very icy; so crampons or microspikes are a must!
The Hike
Difficulty: easy to moderate
Length: 4 miles – out and back hike
Elevation Gain: About 1000-1300ft
The first portion of the hike is on private property, but you're more than welcome to pass through! You gain some elevation quickly as you switchback up from the trailhead. You will pass through a gate and from there the hike stays relatively flat. Once you cross the bridge over the creek again, you'll start to gain elevation again as you climb rocks, boulders, and stairs up to the hot springs. This is where you'll come across ice in the winter. Make sure to look to your left once you've crossed the bridge to see the waterfalls! Cross over the last wooden bridge at the top and take in the views and the hot springs.
The trail is really easy to follow, even in winter, as the trail gets packed down by visitors. However, while the trail is packed down, the snow is very slick and there are lots of icy sections. You will definitely want microspikes!
What to Bring
Backpack: While this is a short hike and you won't need to pack a lot, you'll want a backpack to carry a change of clothes and your wet clothes on the way down. Bring one with enough room for a towel, water, a snack if you want, and a camera.
Clothing: You'll definitely want a change of clothes so you're not hiking down in a wet bathing suit. I prefer to wear my suit on the hike in so I only have to change afterwards. Otherwise make sure you wear weather appropriate clothing – shorts, leggings, tank tops, or snow appropriate clothing like wool layers, a water proof jacket/shell, and winter pants.
Trash bag: Remember the principles of leave no trace – I like to always leave a place better than I found it! I pack a small garbage bag (or grocery bag) to hold my wet clothes on the hike dog. And I bring a second bag to carry out our trash or any left behind by other people.
Camera: You'll definitely want to take pictures of the amazing views and the beautiful hot springs. You can use the camera on your phone or bring a DSLR!
Shoes: The hike isn't long so you can get away with wearing your favorite hiking sneakers if you prefer. But if you're visiting in the winter you will need winter boots or hiking boots with crampons or microspikes. Although we found the microspikes worked better than the crampons on the ice.
Water shoes: The bottom of the hot pools is pretty rocky. If you have sensitive feet, I recommend bringing a pair of water shoes.
While the Goldbug Hot Springs are remotely located in the Salmon-Challis National Forest, you can make a day trip out of visiting, camp, or stay nearby in Salmon, Idaho.
Camping is allowed here but you must be at least 500 feet from the hot springs. There are several good spots along the hike to pitch a tent or set up a hammock. Just remember to practice Leave No Trace – if you pack it in, pack it out!
Make sure you save this post for planning!
Sign Up to the Newsletter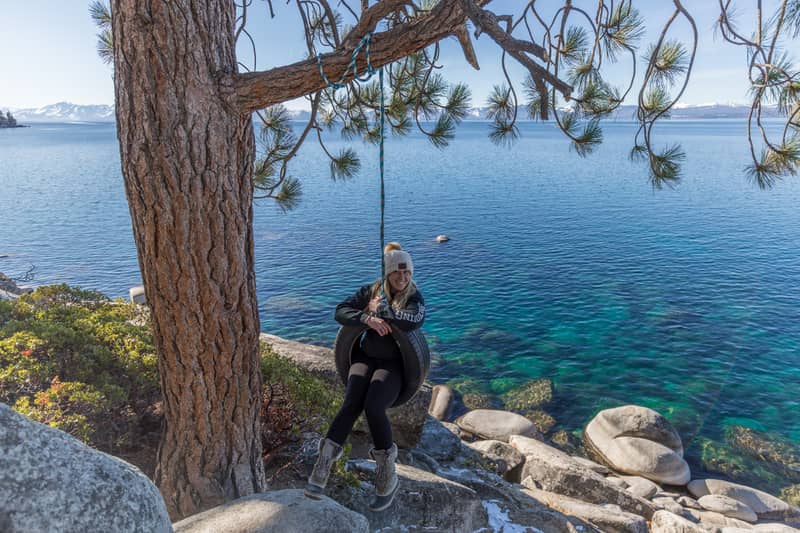 Subscribe to receive the latest content and new travel guides!