Winter in Lake Tahoe is a wonderful time to visit. Usually blanketed with snow, you really get to feel that mountain serenity as you head out for your winter activities. And with fairly mild winters, Lake Tahoe is a popular destination for winter vacations. It offers excellent conditions for skiing or snowboarding at one of Lake Tahoe's 15 ski resorts with clear, sunny skies.
But hitting the slopes isn't the only great thing about visiting Tahoe in winter. There are so many other great winter activities in case you don't like to ski!
Here are the best winter activities in Lake Tahoe (besides skiing/snowboarding)!
Après Ski
Whether or not you hit the slopes, you can head to one of the many breweries, bars, or restaurants for some après ski happy hour cocktails. Gather with your friends around a fire pit and relax!
Sledding
No winter vacation is complete without sledding! It's a great family activity, or just fun to go with friends! Some spots charge a fee, but these places usually offer sled rentals and have lodges and restroom facilities. There are some popular free spots as well, but you can always find your own great spot.
Note: Sledding areas tend to fill up quickly, especially on the weekends.
Hiking
With mild winter weather bringing warm temperatures and sunny skies, hiking remains a great winter activity in Lake Tahoe. There's something special about hiking in the winter. With less people on the trails, sometimes having it to yourself, you really feel the deep silence of winter and serenity being out in nature.
Make sure to pack some microspikes, I highly recommend them for packed snow and icy spots! Also try to look up recent reviews in the AllTrails app for trail conditions. Some of my favorite winter hikes are Cave Rock, Monkey Rock, and Chickadee Ridge. All of these trails offer some of the best views of the lake and are family friendly. But you can check out all of my favorite hikes in Lake Tahoe here.
Kayaking/Paddleboarding
Despite colder temperatures, kayaking and paddleboarding are great winter activities in Lake Tahoe. Take in the views of the snowy mountains and crystal clear waters with no boat traffic or sounds from crowded beaches. While it's exhilarating to be doing something active out in the brisk air, it's extremely peaceful and rewarding to feel like you have the lake to yourself.
Tip: Many kayak and paddleboard rental shops close for the winter – but you can buy an inflatable SUP or kayak that's easy to pack!
Snow Shoeing
Snow shoeing is a great winter activity in Lake Tahoe. It allows you to continue visiting your favorite hiking spots even though they're covered in snow. There are additional spots to explore with snowshoes that you might not normally hike because they're more of a scenic walk. It's also great exercise and doesn't require any skill (which is probably why I like it so much!).
"Snow provokes responses that reach right back to childhood." – Andy Goldsworthy
Gondola Ride
Even if you don't like skiing or snowboarding, you can still ride the gondola up the mountain to enjoy the views of Lake Tahoe. Take the Heavenly Gondola or the Squaw Tram for amazing views of Lake Tahoe. On the Heavenly Gondola, stop at the mid-station for some of the best views and grab a snack or a beer/wine at Cafe Blue. Both options have food available at the top.
Tip: If you want to visit Cafe Blue or take pictures with some of the best views at the mid-station on Heavenly, be sure to stop on the way up as there's no access on the way down!
Ridge Rider Mountain Coaster
At the top of the Heavenly Gondola is the Ridge Rider Mountain Coaster. It's a gravity powered roller coaster that takes you on a thrilling, adventurous ride with offers amazing views of Lake Tahoe. Head here for more information!
Sleigh ride
Bundle up for a romantic sleigh ride or take the kids out for a magical winter adventure. Take a one hour sleigh ride from beautiful Sand Harbor with Borges Sleigh & Carriage Rides.
Photography
Winter is the perfect time for photography. The snow adds such a lovely touch to the mountains and contrasts the lake so beautifully. Some of the most beautiful places to photograph in Lake Tahoe are Emerald Bay, Secret Cove, or Sand Harbor, you you really can't go wrong anywhere!
Snowmobiling
A really fun winter activity in Lake Tahoe is snowmobiling. It offers a different way to get up in the mountains and see incredible views of the lake. There are several different companies to choose from:
Lake Tahoe Adventures: snowmobile the backcountry in Hope Valley
Mountain Lake Adventures: take a scenic or wilderness tour in South Lake Tahoe
Sierra Adventures: customized tours to your specific preferences
Zephyr Cove Snowmobile: take a scenic tour or customize your own ultimate experience in South Lake Tahoe
Cold Stream Adventures Inc: take a tour through Truckee's backcountry
Dog sledding
Another unique experience I highly recommend is dog sledding! Go on a tour of the facilities, meet the dogs, and go for a scenic dog sled ride with Sierra Husky Tours.
Tip: Be sure to book early as they quickly sell out for the season!
Dining
There are plenty of great dining options in Lake Tahoe, and many with amazing views of the lake. There's fine dining, breweries, and off the beaten path locals favorites!
Ice Skating
Skate under the stars and the snow at one of the ice rinks around Lake Tahoe. Head to the ice rinks in Heavenly Village or at Edgewood. The one in Heavenly Village has holiday lights, music, and is conveniently located in the middle of South Lake Tahoe while the one at Edgewood offers more serene views of the resort and the mountains. If you're staying on the North Shore, then head over to the North Star Ice Rink or Tahoe City's Winter Sports Park.
Go to the Beach
Go for a walk to the beach and enjoy the calmness of Lake Tahoe in winter. Listen to the sounds of nature without the distractions of crowds and boat traffic. Take in the snowy shorelines, I love the contrast of the snow and the water. My favorite spots to explore in the winter are Sand Harbor, Secret Cove (pictured below), Emerald Bay, and Hidden Beach.
Cozy Up by the Fire
No winter vacation is complete without cozying up by the fire at least once. Whether you're enjoying an après ski drink around a fire pit or cuddling up in your hotel room, nothing beats some time around the fire.
Sign Up to the Newsletter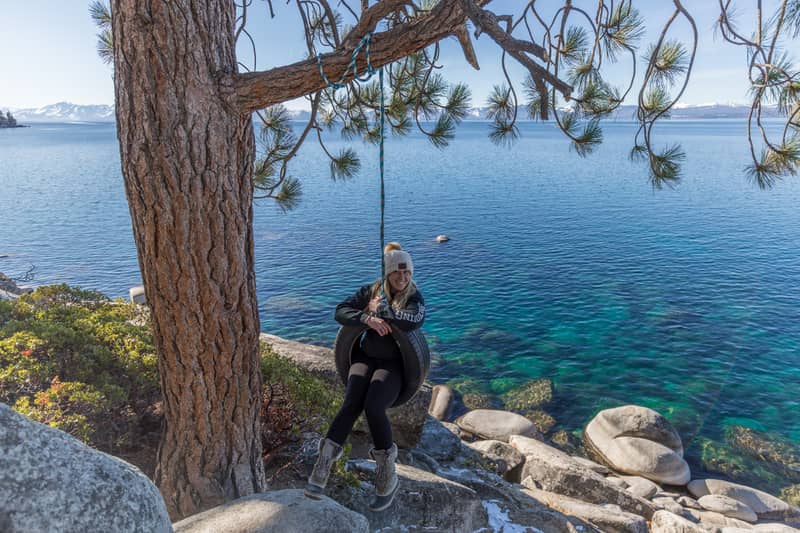 Subscribe to receive the latest content and new travel guides!