I fell in love with Fairbanks on my last visit for my friends wedding two summers ago. Experiencing the midnight sun was such an incredible experience. But as I mention in my Travel Guide to Fairbanks, one of my life goals has been to see the Northern Lights. Plus I wanted to experience the winter wonderland that is Alaska in the winter time.
When I think of Alaska in the wintertime, I think of a magical snowy winter wonderland. I don't get to play in the snow enough living in California. Actually, I don't think I've even been to the snow in five years. And winter in Fairbanks lived up to my expectations.
From waking up and looking out at the sparkling snow to walking through the snow covered trees, I fell even more in love with Fairbanks. The magic of the wintertime made bundling up to face the cold weather worth it.
I used the Aurora Tracker on the Explore Fairbanks website to check the Aurora Forecast during my trip. Unfortunately the northern lights weren't going to be very visible during my trip (of course), but I did get to see them on my flights in and out of Alaska!
There's something so magical and nostalgic about my childhood playing in the snow. Fairbanks definitely has plenty of snow in the wintertime to play in. There's a few sledding hills, one being at University of Alaska Fairbanks and the other at Birch Hill Ski & Snowboard Area by Creamer's Field.
Bundling up in lots of warm clothes, we decided to play in the snow by walking around my friends property. But the snow was so deep we ended up crawling and rolling around the property. And I've never been in snow that was as fluffy or sparkly as this.

Because crawling through the snow wasn't enough, we headed to Creamer's Field to hike around in the snow. Creamer's Field is an old dairy that is now a migratory waterfowl refuge. It's known for its incredible scenery and wildlife viewing opportunities. And no trip to Alaska is complete without seeing a moose! There was a viewing tower on our hike so we could have a better view.
There are several different hikes or trails to take. And the birch trees along the path bend and twist beautifully in all different directions. The snow looks so graceful and serene resting on the trees and the bridge railings. Apparently Creamer's Field is absolutely gorgeous in the fall when the leaves change colors (definitely going back for that)!
My favorite place to have lunch was at Great Harvest Bread Co. While we waited in line to order, we sampled some of their bread and butter! It was amazing. I don't remember the flavor of bread or butter I sampled (I was too hungry and ordering my sandwich to write it down). I got the turkey and pesto and it was delicious. Definitely worth a visit when you're in Fairbanks.
We visited the Ice Sculpture Park Ice Alaska (visit them on Facebook here) to check out the ice sculptures. Normally they host the annual Ice Sculpture World Championships, but they were cancelled this year. But the ice sculptures were incredible! I wish I had the talent or patience to create something amazing like this.
This is a great activity for kids since there were slides, tunnels, mazes for the kids to play on. Some of the sculptures were huge, and they all had such beautiful, intricate designs! We even got to watch two men working on their sculpture.

We also decided to try some ice fishing at Chena Lakes. It was an unsuccessful trip, but it was still a fun experience. The layer of ice on the frozen lake was at least 4 feet deep, it was weird and a bit terrifying driving on top of the lake to our ice house! The wood burning stoves in the ice house was pleasant and kept us very warm (it got up to 80º really quickly!).
On our way back into Fairbanks, we stopped by Santa Claus House in North Pole, Alaska. It was closed for remodeling but it was still fun to stop by and see the reindeer. If you can't see the reindeer here, stop by the UAF campus to see the reindeer there! Or plan ahead and book a visit to Running Reindeer Ranch.
The reindeer were all sleeping, but it was still exciting to stop and see them. When Santa Claus House reopens, this will be a great spot to stop.
Some other great activities that I didn't get to experience this trip are dog sledding and the antique car museum. Do note that the Fountainhead Antique Auto Museum has limited hours in the wintertime (Wednesdays and Sundays 12:00-6:00pm).
If you're interested in dog sledding and the history behind it, or just meeting and hanging out with some sled dogs, check out the following options. I haven't gone yet (next time!) but here are a few good places to start: Black Spruce Dog Sledding, Sirius Sled Dogs, and Paws for Adventure.
Go on a more guided arctic adventure with Northern Alaska Tour Company.
Have you ever visited Fairbanks (or anywhere in Alaska) in the wintertime? What was your favorite thing to do?
Related Posts
Sign Up to the Newsletter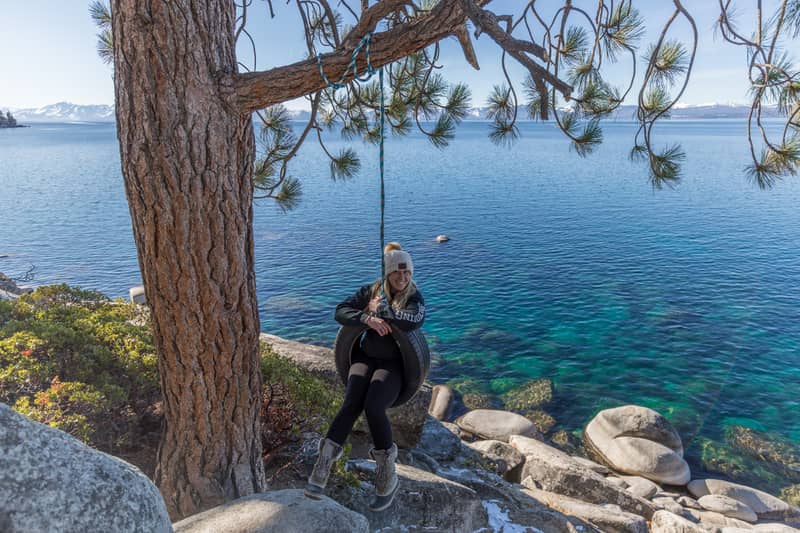 Subscribe to receive the latest content and new travel guides!