One of my favorite parts about living in Tahoe is all the beautiful outdoor activities, especially all of the opportunities for hiking in Lake Tahoe. I love getting outside and hiking when traveling somewhere new as it's a great way to explore a new area and see it from a different perspective. Plus it's typically free and usually a great way to get away from the crowds and tourists. So I put together a Hiking Guide to Lake Tahoe to share my favorite hiking trails with you!
Another great part about hiking in Tahoe is the mild winters. Depending on current weather you can hike almost year round. You might need some extra layers in the winter and possibly snowshoes or microspikes; but I have hiked in tank tops in February and November.
As Tahoe heads into the busy summer season, hiking spots tend to get crowded making parking hard to find. If you're visiting during the summer, definitely head out early in the morning or during the week to avoid the crowds. But hiking is still fantastic in September and October with the summer crowds gone but the still beautiful weather. Plus you can see the fall colors in Tahoe as the leaves change.
There are plenty of hikes to choose from with varying difficulties, from easier family friendly hikes to longer, more difficult hikes and backpacking trips. Some of these hikes are in Desolation Wilderness which require a permit for day use and for camping. The day use permits are free and can be filled out at most trailheads while the camping permits must be purchased ahead of time and can be purchased online here.
Whether you are camping or just heading out for a day hike, please respect the outdoors and practice Leave No Trace! Help keep Tahoe beautiful – I always bring an extra bag to pick up all the trash I find.
Easy Hikes in Lake Tahoe
Cave Rock
This is one of my favorite hikes in Tahoe because it's so short and offers incredible views over Highway 50 and of the lake. There is a little bit of a climb up the rocks, but it's not difficult. It can be accessed any time of year and is a great spot to watch the sunrise and sunset.
Difficulty: Very Easy
Length: 0.8 miles – out and back
Dog Friendly: Yes
Tips: My favorite time to go is at sunrise or sunset!
Eagle Falls to Eagle Lake
Another easy and beautiful hiking spot in Lake Tahoe is the Eagle Falls Trail over by Emerald Bay. While Eagle Falls has upper and lower waterfalls, they are reached by different trails. The Eagle Falls trail to Eagle Lake will take you past the upper falls as you continue on to Eagle Lake. If you're short on time or not up for a longer hike, you will reach the upper falls within a quarter mile or you can do mile long loop. But I definitely recommend hiking on to Eagle Lake if you have the time!
Difficulty: Easy
Length: 3 miles – out and back
Dog Friendly: Yes
Special Note: The trail to Eagle Falls and Eagle Lake is in Desolation Wilderness so a permit is required, but day use permits are free and you can get one at the trailhead.
Tips: Arrive early as parking by Emerald Bay fills up quickly or try to go during the week. The waterfall typically dries up later in the summer, so head out in spring or early summer if you want to see the falls.
Vikingsholm/Lower Eagle Falls
At the Emerald Bay Lookout point is the trailhead down to Vikingsholm and Lower Eagle Falls. The short hike is downhill all the way to Vikingsholm where you can admire Emerald Bay and Fannette Island from lake level. Follow the signs for a short half mile hike up to view Lower Eagle Falls from below. The best time to view the waterfalls is late spring to early summer. This is a great spot to bring some towels, a hammock, and some lunch and have a picnic!
Difficulty: Easy to moderate – not very long, but the trail is steep
Length: 2-3 miles – out and back
Dog Friendly: No – dogs are not allowed on any trails or beaches in Emerald Bay State Park!
Tips: Get here early as parking all around Emerald Bay fills up quickly, especially on weekends or during the peak seasons of summer and winter.
Eagle Rock
This short and easy hike on the west shore of Lake Tahoe is a perfect family hike and it offers great views of the lake.
Difficulty: Easy
Length: 0.7 miles out and back
Dog Friendly: Yes
Tahoe Meadows Interpretive Loop
This "hike" is more like a beautiful walk through the meadows and through some trees. It's a beautiful spot in the fall and also a great trail to see some of the fall colors. I walked it in a dress and sandals because we had some time before we went to dinner.
Difficulty: Easy
Length: 1.3 mile loop
Dog Friendly: Yes
Cascade Falls
This is probably one of the most family friendly hikes in Lake Tahoe that offers scenic views the entire way, beautiful waterfalls, and a great spot to picnic or hang out. There is very little elevation gain on this hike and it's not very long.
Difficulty: Easy
Length: 1.4 miles out and back
Dog friendly: Yes
Tips: The best time to see the waterfalls is spring to early summer when the water is still flowing from the snow melt.
Secret Cove
This is easily one of my favorite hiking spots in Lake Tahoe because it takes you down to one of the most beautiful spots on the lake. The water seems an unreal color and it's such a relaxing, refreshing spot to hang out.
Difficulty: Easy
Length: 1 mile – depends on starting point
Dog Friendly: Yes
Special Note: Secret Cove is a clothing optional beach and you will more than likely see a few locals exercising that option and sunbathing in the nude. There are several trails to Secret Cove; you can park at the Chimney Beach Overlook parking lot or you might be able to find a spot along the side of NV28.
Tips: Secret Cove is not a secret and it does get crowded, especially during the summer months and on the weekends. Going early in the morning, during the week, or in the off seasons helps with avoiding crowds. The early mornings tend to offer calmer water but the early afternoon sun hits the water and gives you that amazing color.
Stateline Fire Lookout
If you're looking for a hike that has great views and is less crowded, head over to Kings Beach on the North Shore and hike the Stateline Fire Lookout trail. I've been in the middle of the day on a holiday weekend and while there were several other groups of people, there was plenty of parking and space between the groups so it didn't feel crowded.
Difficulty: Easy
Length: 1.5 miles – loop
Dog Friendly: Yes
Monkey Rock
This hike offers some of the best views of Lake Tahoe, with the added bonus of a rock that looks like a monkey with facial features carved by a local. It's not a challenging hike, but once you pass behind the Tunnel Creek Cafe it's a steady uphill climb until you reach the monkey rock. And the walk down can be slippery. For a longer and more challenging hike, continue on the Tunnel Creek Trail.
Difficulty: Easy to moderate
Length: 2.6 miles – out and back
Dog Friendly: Yes – on leash
Special Note: There is a $2/person self pay station on the way up.
Tips: Parking can be found by the Tunnel Creek Cafe or across the street. Go early for parking – there are parking fees in the lot but parking down the street is free.
Spooner Lake
Circling Spooner Lake, this mostly flat hike makes for a great family adventure. My favorite time to hike this trail is in the fall when the leaves are changing, but it's also a great place to snowshoe or crosscountry ski in the winter. And there's a great sledding hill right on the corner of Highway 50 and NV28.
Difficulty: Easy
Length: 2.5 mile loop
Dog Friendly: Yes
Special Note: There is a $10 entrance fee per vehicle to the Spooner Lake park.
Moderate Hikes in Lake Tahoe
Marlette Lake
Marlette Lake is a beautiful place to enjoy the outdoors; it's a great place to swim, fish, or relax and have a picnic before heading back. There are two ways to get to Marlette Lake – you can hike from Chimney Beach which will be about 6 miles round trip or you can hike from Spooner Lake which is just over 10 miles round trip. Because these are longer hikes, you will find less people on the trail so you can find some more peace and solitude.
Hiking from Spooner Lake is my favorite way, because the beginning portion of the hike is North Canyon Road which is gorgeous in the fall with all the aspens changing colors. Both hikes are moderate to difficult with decent elevation gain. But the majority of your elevation gain will be on your hike out, so your return trip from Marlette Lake will be much easier.
Difficulty: Moderate to difficult
Length: 6 or 10 miles – both trails are out and back
Dog Friendly: Yes
Special Note: If hiking from Spooner Lake, there is a $10 entrance fee per vehicle. There are clean restrooms there as well. This trail is also popular for mountain bikers and horses, so be careful.
Tips: Hike this trail in the fall for less crowds and beautiful views of the fall foliage!
Chickadee Ridge
Hiking Chickadee Ridge is a must do experience when visiting Lake Tahoe. The hike alone provides stunning views but the truly unique experience is having chickadees eat birdseed right out of your hand. It also makes for a great winter day activity with some snowshoes!
Difficulty: Moderate
Length: 2 miles
Dog Friendly: Yes
Tips: Go early in the morning or on weekdays to avoid the crowds – and don't forget some birdseed!
Martis Peak Fire Lookout
A long but pleasant hike on the north side of Lake Tahoe that offers great views at the top. Stop at the fire lookout station at the top for amazing views, picture opportunities, or a place to snack before heading back down the trail. There is another lookout point a little farther past the fire lookout station.
Difficulty: Moderate
Length: 10.5 miles – out and back
Dog Friendly: Yes
Special Note: There are no water features on this hike (no water stations, streams, or creeks); so pack plenty of water for you and your pups.
Tips: Stay on the Tahoe Rim Trail, versus taking the fire road, as it's prettier and shaded on the trail.
Tunnel Creek Trail
The same trail you take to Monkey Rock, which is a beautiful hike on its own, but you can continue on the Tunnel Creek Trail for a longer hike and more amazing views.
Difficulty: Moderate
Length: 7 miles – out and back
Dog Friendly: Yes
Tips: Stay alert as this trail is popular for mountain biking.
Rubicon Trail
This scenic hike features incredible views as it edges around Emerald Bay. While this trail is long, it is mostly flat and offers great views of the lake. You can also go either direction on the trail, starting at D.L. Bliss State Park or Eagle Point.
Difficulty: Moderate
Length: 6 miles – one way
Dog Friendly: No
Tips: Parking by Emerald Bay is very limited so get there early, go on weekdays, or visit during the off seasons to avoid crowds.
Five Lakes Trail
While the trail might get busy, this secluded hike is full of beautiful sights and gives you that mountain serenity. There are multiple lakes where you can sit and relax or even do some fishing. There is a pretty steep elevation gain in the first two miles.
Difficulty: Moderate
Length: 5 miles – out and back
Dog Friendly: Yes
More Difficult Hikes in Lake Tahoe
Mount Tallac
One of the more challenging hikes in Lake Tahoe, but probably one of the most rewarding. While the first few miles are perfect for beginners, the hike becomes steep and rocky as you climb the face of Mt. Tallac. But the trail is full of wildflowers, green forests, and amazing nonstop views of Lake Tahoe.
Difficulty: Difficult (3,200 ft. elevation gain)
Length: 10.5 miles – out and back
Dog Friendly: Yes – but the rocks can be sharp and hot on their paws so get some hiking boots for your dog to protect their paws
Special Note: You will be hiking in Desolation Wilderness, so make sure to pick up a permit at the trailhead. If you plan on camping, you have to purchase a permit beforehand.
Tips: Best to hike June to October since lingering snowpack can make for dangerous trail conditions in the spring and early summer. Because you'll be hiking in summer and the hike offers little shade, make sure you pack sunscreen and plenty of water! I definitely recommend getting an early start as there is no shade on the toughest part of the hike.
Lake Aloha
If you have the time, I highly recommend hiking to Lake Aloha. The water is beautifully clear like Lake Tahoe but without all the crowds! And while this hike can definitely be done in a day, I suggest making this a backpacking trip so you can take your time. Walk around the lake and find your favorite spot to set up camp then spend your time swimming, relaxing, taking some pictures, and just taking in the beauty. Plus, Lake Aloha also makes a great spot to have as your base as you explore the surrounding trails and lakes.
Difficulty: Moderate to difficult
Length: 13 miles – loop
Dog Friendly: Yes
Special Notes: If you're day hiking, fill out a permit at the trailhead. But if you plan to camp, you will need to purchase a permit here ahead of time.
Tips: Get there early as parking is limited and fills up quickly. The most popular place to enter is from Echo Lakes Trailhead. While there is access to the trail year round, the lake is drained each fall.
Granite Lake & Maggie's Peak
Hiking the Bayview Trail is a challenge that is absolutely worth the effort. This hike is definitely challenging with mostly uphill on the way out as you gain a lot of elevation over a relatively short distance. But only a half mile in, you are rewarded with some of the best views of Emerald Bay without the crowds. As you continue on the trail, you enjoy countless stunning views as you overlook Lake Tahoe, Granite Lake, Fallen Leaf Lake, Mount Tallac, and Desolation Wilderness.
Difficulty: Difficult
Length: 4.5 miles – out & back
Dog Friendly: Yes
Special Note: There is no defined trail going up to the top of either peak, but it's fairly easy to navigate your own path to the top – you can decide if you go a steeper, more direct route or a more gradual route making switchbacks.
Tips: The trailhead is across from Inspiration Point in Emerald Bay, so again parking will fill up quickly here. Parking across from the scenic viewpoint adds about half a mile to your hike.
Pacific Crest Trail
This trail ventures all the way from Canada to Mexico, and you might be lucky enough to come across people hiking the whole trail. There are many different places to hop on the trail as it meets with multiple hiking trails around Lake Tahoe.
Difficulty: Moderate to difficult
Length: However far you want to go
Have you done any of these hikes? Let me know in the comments which one is your favorite or which one you're planning to do next!
Sign Up to the Newsletter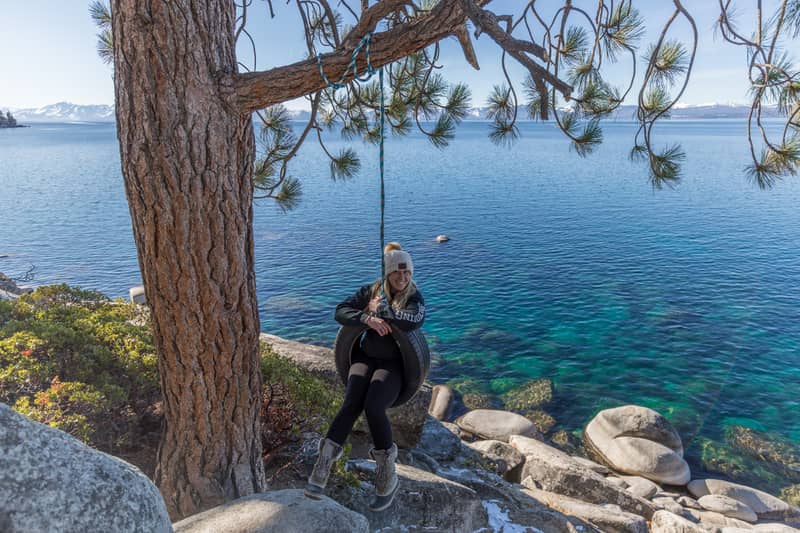 Subscribe to receive the latest content and new travel guides!